Easy terminal multiplexing with Byobu
---
I spend a lot of time in the linux terminal, because it's usually the fastest and most effective way to perform a task.
On average I use the terminal to navigate the file system, launch both a backend server and a frontend server, and commit code with git.
One obvious way to perform many tasks is to open many terminal windows. But then, switching between them with Alt + Tab on my Xubuntu system gets tedious pretty fast.
Another option, if you use VS code like me, is to open several terminal windows and perform your tasks there. The problem is that I often work with a 13.3' laptop, and I don't have that much screen real estate to throw away.
A better alternative is to use a terminal multiplexer like tmux or GNU Screen.
I tried tmux a couple of times, but it didn't really stick with me. I watched a few videos from this YouTube playlist, but in the end I didn't invest enough time to learn it properly.
A colleague at work recommended me Byobu, so I decided to try it out.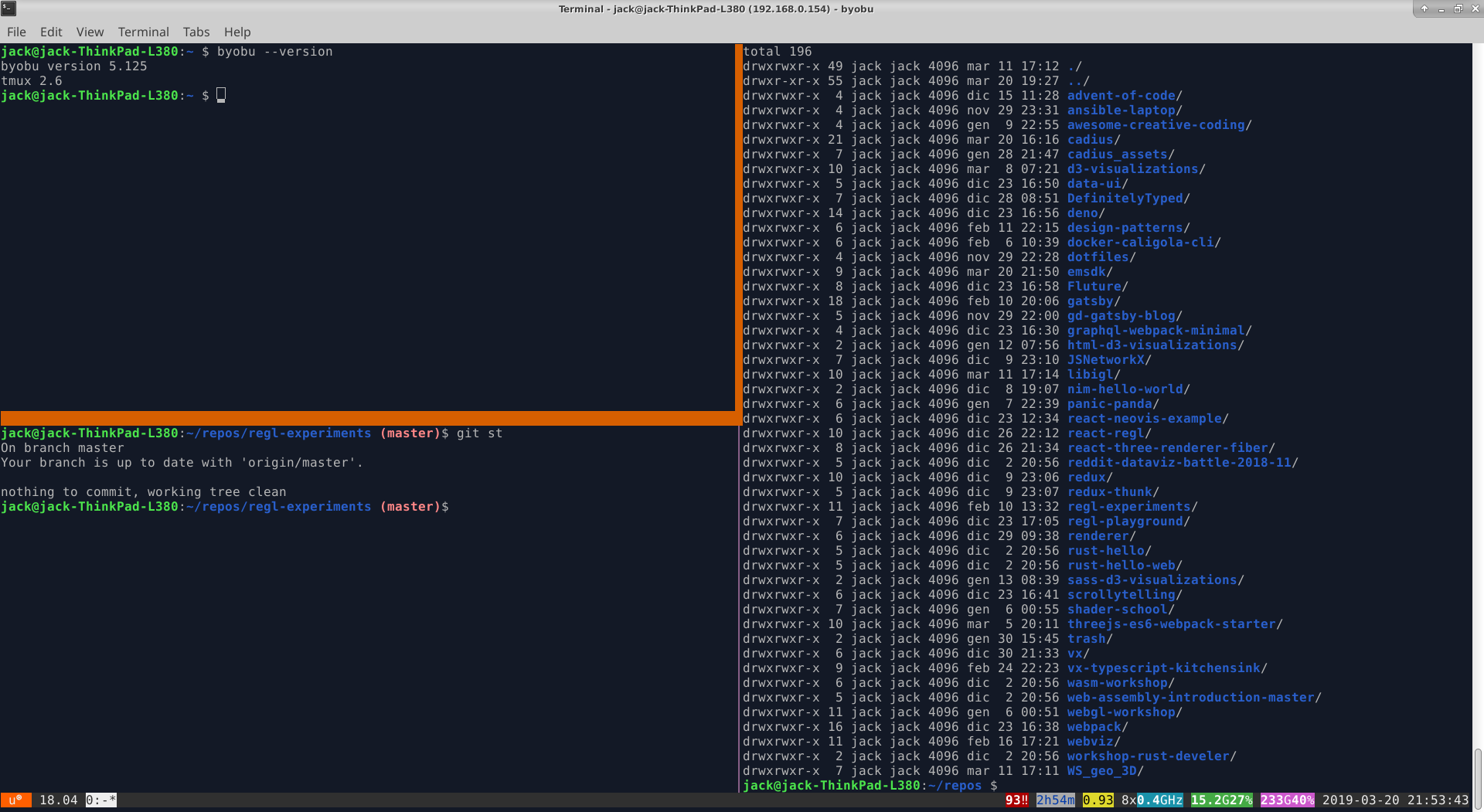 Installation and first steps
Byobu is a script that launches either tmux (default) or GNU screen. You can install it with sudo apt-get install byobu and launch it with byobu.
If you want to see Byobu in action and learn a few basic commands, I think your best option is to watch the 10-minute tutorial by its author:
Keybindings I use all the time
I am sure I will keep using Byobu and maybe configure some custom keybindings in the future. For now I use these ones:
Shift + F1: show all Byobu's keybindings (press q to exit).
Shift + F2: split the current panel vertically.
Ctrl + F2: split the current panel horizontally. Note Xubuntu's Window Manager has already a keybinding for this key combination: Move to Workspace 2. Since I don't use workspaces, I disabled the keybinding in Window Manager.
Shift + arrow (LEFT/RIGHT/UP/DOWN): switch between panels.
Shift + Alt + arrow (LEFT/RIGHT/UP/DOWN): resize panel.
F7: enter scrollback mode. You can navigate past output using vi-like commands, like see here. Exit with Enter.
Alt + PageUp/PageDown: scroll back/forward.
When you type exit, Byobu closes the current panel and resizes all other panels in the terminal window.
---